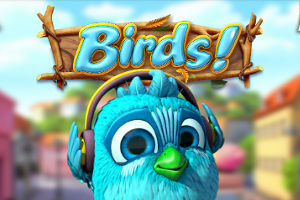 Bird Lovers will be pleased to know that the good people of Betsoft Gaming dedicated their newest title to those little fluffy things that create some of the finest music nature has to offer.
The 2016 release represents a real breath of fresh air when it comes to video slots, with some outstanding graphics, reels that do not spin, but actually fly in and out of the game, respins after every winning combination and some cute special features that may reward gamers with some lucrative payouts.
What We Love
First of all, we need to stress the awesomeness of the visual appearance! Betsoft Gaming is famous for top-notch graphics and animations, and they did a remarkable job in Birds! slot as well. Due to a job well done, the game looks very real and we had the impression of actually watching an animated cartoon, with birds flying all around the place.
We love the fact that there are no standard paylines, but you just need to land three matching symbols both horizontally or vertically anywhere on the reels, leaving much more possibilities for winning combinations. For the price of one spin, you get the chance to land several winning combinations, thanks to respins and cascading reels. Winning birds fly away, remaining fall down in their place, leaving room for other birds to fly in and make additional winning combinations.
Free Flights is also a neat feature, with a Tweet 'o' Meter counting your successive wins, bringing you a step closer to free spins, 8, 12 or 20 to be exact, but thanks to the fact that the feature can be retriggered at any time, it is possible to win a far greater number of free spins.
>>> Play Birds Slot Now – CLICK HERE <<<
What We do not Like
One of the things that did bother us a little is that, after a while, it seems that the game is a bit slow, because it took those birds so long to fly away and leave room for new birds, especially when we went several spins without a single win, so we literally tried to scare them off the wire by clicking the spin button repeatedly.
Free Flights feature may be difficult to trigger on regular basis, since four consecutive wins do not fly in as often as we would want. Rules of the game might seem confusing for some players, since the system is new, but after a while everything runs smoothly.
Worth Playing?
We have to admit that Betsoft did a tremendous job with Birds! slot in the graphics department, bringing those birds to life with some great animations. The game runs very smoothly despite the fact that birds do move a bit slow when they fly away from the wires.
A very interesting way to form winning combinations will help gamers win money more frequently, while the Free Flights feature gives a nice possibility to win countless free spins, at least in theory. Those who are not fans of cartoonish slots will not be too excited about this Betsoft product, but we do believe it will attract a wide audience among gamers, since it is simply fun to play.
 >>> Play This Slot Now! CLICK HERE TO CLAIM $/£200 Bonus Now! <<<<