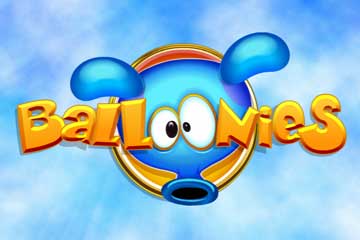 Ballonies, a five-reel slot inspired by animal-shaped balloons, developed by the IGT gaming company, widely popular for its innovations implemented in casino games. The childish themed game, however, provides the players with opportunities of winning some serious cash.
Once you start playing it, you will be taken to the land of flying balloons in the shapes of cute elephants, giraffes, monkeys and a hedgehog acting as Wild which will help you complete more winning combinations. An overall atmosphere of the game is nostalgic. After all, who didn't like balloons as a kid?
What We Love
As soon as you start spinning the reels, you will notice a Star Multiplier, the most lucrative symbol paying and multiplying your wins. We really adore it, especially because of the fact that it shows up pretty often. Not only that it multiplies your winnings, but it also triggers the Floating Reels feature, another thing we love about this game.
You have to know that in this slot the symbols don't fall down, but they go up as real balloons do. So, when Star Multiplier occurs, or more of them which is also possible and happens on a regular basis, or when a winning combination is hit, these symbols inflate and pop making way for new symbols to fly up to their positions and create new combinations.
>>> Play Ballonies Slot Now – CLICK HERE <<<
These respins practically give you another chance to land a win at the same stake and the feature is active as long as you keep winning. Pretty cool. We also love the free spins feature during which you can get both Star Multiplier and Floating Reels, and combination of these two can improve your balance significantly.
It may seem a bit immature, but we love the appearance of the reels along with a 3D-like symbols flying in the blue sky which turns dark during bonus game.
What We Do Not Like
The theme itself may seem a bit naive and the accompanying music score does not bring about any particular emotion, but this is just an aesthetic issue.
The biggest problem with the Ballonies is the fact that the lowest stake you can place is $20 per spin which is something a fair share of players will not be able to afford for pure entertainment, not to mention that the stake amount goes up to $2,000. Although you can earn a lot, think twice before you start wagering. Such a lighthearted theme needs to be affordable at lower stakes.
Worth Playing?
If you are willing to invest your money in this slot, do so. You will surely enjoy an exciting and relaxing gaming experience. However, don't let yourself be misled by the childish theme, when it comes to wagering it gets really serious. The payouts are decent and the bonus features are rewarding, but the stakes are pretty high so you have to play responsibly.
 >>> Play This Slot Now! CLICK HERE TO CLAIM $/£200 Bonus Now! <<<<