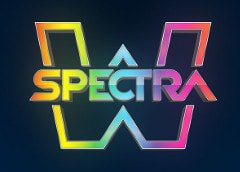 From the very get-go, looking at the neon, lit up graphics, and the trance-like music playing in the background, Spectra catches your attention.
It gives off a retro-futuristic feeling in it's theme, giving you, as a player, quite a bit of eye-candy to look at.
Having said that, it is clear that Thunderkick's creative team has done a very good job, making the online casino community stand up and take notice.
Developer
Spectra is developed by Swedish software company Thunderkick. If you've ever played any of their previous slots, Spectra should be right up your alley – it remains a vibrant, colourful experience with a soothing, yet catchy music playing in the background, sticking true to Thunderkick's formula of making gorgeous, fun games to play.
How to Play It
The starting interface can seem a bit confusing – it takes a few clicks to get around to where what is located, but once you have it down, the game becomes very enjoyable. Spectra has 30 paylines and is played on a 5×4 reel set, and you're able to pick your bet size from as little as $0.10 to $100 per spin.
The game is also very convenient in giving you the option to auto play – rather than clicking the same button over and over, you are able to set how many spins you want to do.
The slight thump noise as each new row falls into place really gives that digital vibe the game goes for and the slightly louder digitalized sound of a winning combination is sure to make you feel more than satisfied.
The game gives you a variety of colourful symbols to code your winnings, with the most appealing being the Bar and Lucky Seven symbols, which give the most when lined up. Each symbol comes in different tiers of winnings – match 5, and you get more than if you match 3 of the same symbol, for example
After getting a winning spin, the game will light up like a Christmas tree to celebrate your victory. The beams will highlight the combinations you hit to win, and at the bottom the screen, the game will tell you how much you've won for that round, and will then break it down how much each combination earned for you.
The game also tracks your previous victories on the left and right side of the screen, telling you along which pay line you got the win, as well as how many symbols you matched and which symbols those were.
A slight nitpick we have here is that you aren't able to click on these to light up a specific win you want, but have to wait for the game to cycle to it to highlight a specific combination.
In addition, the game keeps track of previous wins there, as well, giving you an overview of past winnings, which fade away for new wins as you keep spinning.

>>>> Play Spectra Now! CLICK HERE FOR $/£200 BONUS<<<<
Special Features
The special feature of Spectra is it's Wild symbol, and it makes your potential for a successful spin all the more easier. Thunderkick knows this, and they make their appearance impressive both with looks and sound, as well.
The Wild symbols shift in all the colours of other symbols and the background music turns up when they enter the field, announcing you just received a lucky break.
Wild symbols can substitute any other icon in the game – and they only appear in stacks of four. Each new Wild symbol you get earns you a re-spin – and with each re-spin, the wild symbol will move to the center of the reel. Somewhat confusing in words, a few spins to interact with the wild symbols will explain it rather easily.
However, apart from Wild, Spectra features no other special features – you get a re-spin and a multiplier from Wild icons, but that's about it – Spectra does not give you bonus rounds or jackpots, though we've never found that to be a fault with the game.
Maximum Payouts
If you're looking to get the maximum win out of this game, it can be done, but it is a rather difficult arrangement. Per spin, the maximum win you can get is a 600x, but thanks to the re-spin possibility Wilds offer, you could potentially get up to 2.400x as a maximum win per game round.
That said, this sort of win is unlikely, as you will need to line up several max wins each time you get a respin to get to it. As for your return to player? The game itself lists it as 96.4% and considering re-spin possibilities chaining into multiple wins, that is more than possible.
Summary
To sum up, we would recommend giving it a playthrough. The colourful, neon colours and great background music match well with a fun, simple slot to give you a fun time.
If you've been yearning a bit of retro-futurism, you might be willing to give this game a shot. Although, it has to be noted that Spectra is deprived of conventional bonus rounds, like most other Thunderkick titles, and, as such, it is unlikely to appeal to the bonus hunters.
 >>> Play Spectra Now! CLICK HERE TO CLAIM $/£200 Bonus Now! <<<<