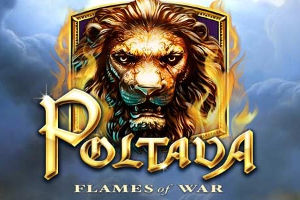 History lovers, Warcraft fans – get ready! A slot game is here, a slot game that will appeal to all of your tastes and take you through an epic war journey.
There is a plot twist to it though, Poltava Flames of War is about a real moment in history, about a battle that took place in early 18th century in Ukraine when the army of Peter the Great of Russia met the Swedish royal army and defeated it to mark the beginning of Swedish decline at the time.
Truly exciting video slot is upon us and here are a couple of reasons why you should or should not try it this summer.
What We Love
To be honest and blunt, we love everything about this game.
ELK Studios won us by deciding to translate such a powerful moment of history into a slot game and do it with such ease through top notch graphics that will have you completely absorbed in this game's universe.
We love that big playing screen and the 5×4 grid that accentuates the whole gaming experience. Game's dynamics are another thing we adore and Marching Reels in particular as this is the detail that will give you a proper war feeling with fully stacked reels marching on in attack with re-spins at your disposal.
>>> Play Poltava Slot Now – CLICK HERE <<<
Poltava's other features are equally exciting and impressive, mostly knowing that there are 180,000 coins to be yielded out of them. Sticky Wilds and Free Spins are everything you need in a game and Poltava has them to make your time playing complete.
What We Do Not Like
In order to fill in this section of this News Article we will have to talk from a different perspective. Being huge admirers of this game we think will be a huge hit, it is hard for us to see the negative aspects. There has to be some as nothing is perfect and one thing we can say from the top of our minds is that Poltava as a war subject and a battle theme will have a restricted audience.
Not many girls will come to play with it and it is also fair to say that Poltava is an acquired taste. One other thing that can be considered a shortcoming to this brilliant title is the lack of special features.
Re-spin or two, depending on how lucky you get, a Wild that turns sticky and up to three Free Spins is less than what we would have expected to see. A couple of multipliers here and there, a progressive bonus round that would take you to a different screen to go head to head against your enemies would also be a welcomed addition.
Worth Playing?
Unique game, real-life subject, a moment in history translated into a slot game are enough of reasons for everybody to give this game a try. Spin the reels with Poltava Flames of War in nothing else than just to feel the atmosphere and step inside a world of war that happened in 18th century.
This title is an original one that offers great value for your money as you walk down a history lane and as you learn about one of the biggest battles in world history.
 >>> Play This Slot Now! CLICK HERE TO CLAIM $/£200 Bonus Now! <<<<