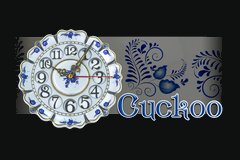 There really isn't quite like Endorphina's Cuckoo mobile slot. Quite naturally, this is a mobile slot machine game which is themed on time, and in particular cuckoo clocks.
Quite possibly the most stand-out thing about this game is the very original and somewhat confusing bonus round which it contains, but we'll come to that shortly.
Cuckoo offers up a grandiose set of images, and theme and that sort of separates it from other developers' titles which do contain time as a theme, and there aren't many of those in the first place.
Developer
Endorphina is perhaps more famous for their online slots than their mobile ones. The online casino software developer has created a host of games which are mobile-friendly, although the wagering menu and other aspects of these games certainly make them more practical for online casino users.
Endorphina does create rather unique and creative casino games, though, as is plain to see if you take one quick glance at their Cuckoo mobile slot machine game.
How to Play It
The Cuckoo mobile slot contains just 10 paylines on its 5 reels, and although players are at liberty to alter those as they see fit, we can't really see why anybody would want to.
Players can alter the value of their coins (from 1p up to £1) via the hidden away button in the top left-hand corner of the screen, whilst all other adjustments must be made in the main wagering menu bar below the reels. Up to 10 coins per line can be wagered, and this will see players wagering anything from a floor of just 1p per line per spin, up to a ceiling of £100 a spin.

>>>> Play Cuckoo Now! CLICK HERE FOR $/£200 BONUS<<<<
Special Features
Scatter symbols: Cuckoo contains scatter icons in the form of an elegant and fancy clock face. This symbol counts no matter where it falls on the reels and can trigger a Clock Bonus round if 3 or more of them appear on the reels during any single spin. Players will note that there are no wild symbols present in this slot, which is somewhat disappointing.
Clock bonus: The Clock bonus is one of the most inventive and original features we have ever seen in a mobile slot. The alarm on the clock has been chosen to ring at a random time, and it is up to the player to move the golden hand forward and place it somewhere on the clock.
This will offer their total bet a multiplier. The farther away you move the hand, the bigger the win you can pocket, however, there is more risk of you failing. Players can potentially win as much as 2,400x their total bet with this feature. The bonus ends if they win twice in a row, or if the alarm goes off.
Gamble feature: Like virtually all Endorphina mobile slots, there is a gamble feature worked into the design of this slot.
It can be activated after any single spin and can see players play a simple higher or lower card game to potentially bag extra cash. If they guess incorrectly, though, they will lose their hard-earned winnings. Personally, we don't find this gamble feature worth it.
Maximum pay-outs
Whilst the bonus pay-out in the Clock bonus is worth a pretty penny, players will win a bigger prize if they can land 5 of the golden and blue egg symbols on the reels of this mobile slot. Landing 5 on any active payline will see players pocket winnings worth as much as 50,000 coins in all.
Summary
Cuckoo certainly is a one-of-a-kind mobile slot machine game. Players are going to be somewhat disappointed by the lack of any wild symbols or free spins, but these seem to be commonly absent from many of Endorphina's mobile slot machine games.
If Cuckoo had just one of these features, it would arguably be a far better mobile slot than it currently is. Still, if you love originality, you can't quirkier than the bonus round in this mobile game.
>>> Play Cuckoo Now! CLICK HERE TO CLAIM $/£200 Bonus Now! <<<<