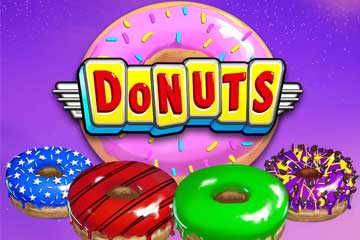 While in some of its other areas, Donuts has proven itself to be quite a formidable game, when it comes to the theme it uses, it ends up being based on a very ordinary thing, a box of donuts.
The location and the way the theme has been implemented aren't quite regular, with a donut shop in the desert appearing to be the place for it. Move to the reels, and the donuts keep on pilling up. Many of its major symbols will feature all sorts of glazed donuts, colored in green, red or blue, while for others all you see is some basic colored playing cards.
It's not going to look like your typical high-end modern mobile slot, as the visuals never seem to be a major plus for the Big Time Gaming titles, but it's still going to be loved by many thanks to its high volatility.
Developer
Big Time Gaming, because they're the ones that have created Donuts, have seen huge growth in terms of their player base, starting with the 2017-2018 period. With the release of some very impressive high volatility games in their collection, players started paying attention to them, and Donuts is just one more mobile slot where they've implemented unique features in trying to take advantage of that. If you love high volatility mobile slots, the games released by Big Time Gaming are some of the best to try out right now.
How To Play It
The wager system is an easy one, as you select a total amount and the prizes will be paid back as multiples of that wager. You have options to set up the Stake anywhere between $0.05 and $10.
It's far from a regular slot machine, but playing it doesn't require that you study pages of rules, you still just have to click on Spin to get things going. You will be spinning 4 reels that way, which will have anywhere between 256 and 2401 ways to win.
>>>> Play Donuts Now! CLICK HERE FOR $/£200 BONUS<<<<
Special Features
First, let's see what's the mechanism that allows a 4×4 reels slot to have as many as 2401 ways to win. The standard setup for the game will include 256 ways to win, but the presence of Donut Boxes among the symbols adds to them. Once the Boxes open up, they will show multiple Donuts inside, and those will count as just as many extra symbols for that reel. You get up to 4 Donuts/extra symbols or a wild symbol which has a 2x to 4x multiplier.
Besides the multiplier wilds which you get via Donut Boxes, you also land regular Wilds, which are replacements for various other symbols when landing on 2nd or 4th reels.
The bonus feature, with 12 or 20 free spins to give, will come when Gold Donut icons show up scattered on 3 or 4 reels. There is a small feature beforehand, where Gold Donuts landing on special reels will add up to the multiplier of the free spins. Each Gold Donut adds a number between 1x and 50x to that multiplier, and there is no upper limit for the total. This is where the game has its huge potential, and it's the part that makes it truly exciting. You can even retrigger free spins, with 2 to 4 Gold Donuts, which will add 10 to 30 extra rounds, at the same multiplier.
Maximum Payouts
Individual base game wins are on the low side, reaching 15x the bet, or $150. There is no limit on the multipliers of the free spins though, and once you get to that difficult to trigger feature, the potential is enormous.
Summary
A game with very high volatility, Donuts will attract pro players, the ones chasing a big win, not just to have a good time.
>>> Play Donuts Now! CLICK HERE TO CLAIM $/£200 Bonus Now! <<<<