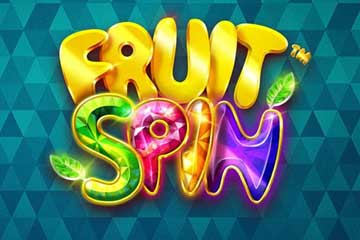 It's not that long ago that slot machines were rather simplistic creations. They had no special features, few paylines, and while they were novel for their time, the advent of online gambling and the sheer myriad of new things have left them in the dust, so to speak.
There's still a market for them, as is often noticed with games with a 3×3 playing field and five paylines, and these usually don't catch our attention that much, unless they do something different, like Mystery Joker 6000 that catch our eye. Fruit Spin is NetEnt's take on the slots of old, bringing modern conveniences and intermixing them with an old look to appeal to our nostalgia.
The title offers a 5×4 playing field with 40 fixed paylines. The symbols make it obvious why these games are called fruit machines in the United Kingdom, as you have a myriad of delicious treats to litter the reels, alongside the familiar sight of bars that come in different metals, as well as a lucky seven symbol.
As for special features, there are Scatter symbols, that can appear in one row, two rows, or three rows of three icons, which impacts how many Lucky Wheels you win. One row of three Scatters is only one spin on each of the three Lucky Wheels, but as you get more, you get additional spins, which means more chances at winning the cash prizes or the free spins bonus. You need to win three Free Spin symbols to get the prize, which rewards five extra turns.
At that point, Free Spin becomes Extra Spin, which allows you to collect additional free spins if you are lucky enough. For the duration of free spins, you also unlock the ability for Wilds to appear in the same stacked fashion as Scatters have.
Developer
It's fitting that NetEnt is the one making Fruit Spin, considering they've been around long enough to remember just how the physical machines of old used to play. In fact, it was this studio, alongside Microgaming, that has invested the most time and effort into pushing online gambling and all the great things that have come with it.
And what started as a small marketplace ended up earning NetEnt a cozy 1,625 million Swedish crowns in 2017. It's fair to say that the Swedish company is doing well for themselves, and we can't wait just what they have to show off for us next.
How to play it
Fruit Spin has a really distinct visual flavour that we enjoyed when we played it. They've taken the look of old fruit machines, updated it for modern standards, and ran with it. We don't mind – they avoided all the annoying sounds that used to come off from old physical slots, they made the fruits an interesting blend of gemstone and actual fruit, and the rest feels familiar enough that it should appeal to the nostalgia of gamblers who are looking to relive those older days. It's a decent compromise to appeal to all parties.
On the gameplay side of things, it plays very similarly to a slot that has been released more recently with a lot of fanfare. No doubt some NetEnt fans caught us out on reviewing a title that came out in the summer of 2017, and the reason we've gone back to it is due to the obvious ties this game has had on Asgardian Stones, which we reviewed recently.
Both boast a medium variance with a decent win, and utilise bonus wheels to their great advantage when it comes to free spins, but the base built here in Fruit Spin was expanded on with additional features in Asgardian Stones, which made it an objectively better slot.
>>>> Play Fruit Spin Now! CLICK HERE FOR $/£200 BONUS<<<<
Special Features
In fact, all the bonuses of this game revolve around the bonus wheel. You need at least one row of three Scatters to make them appear, but you can collect up to three rows of three Scatters, which will give you three spins on all three Lucky Wheels.
Once there, the wheels can land on cash prizes, or free spin symbols. Getting three of those will reward five free spins, and landing on any additional free spin places on the wheel will add additional turns to the bonus.
Maximum Payouts
The Lucky Wheels certainly can live up to their name. A nice mixture of cash prizes and free spins can do wonders for your budget, and Fruit Spin is happy to let you enjoy all the goodies that its medium volatility offers.
That said, the Scatters can be rare to find, but they're usually a safe profit once you do, as we only had one time that we won free spins and walked away with a really small sum of cash.
Summary
Fruit Spin plays as a simpler version of Asgardian Stones. If you enjoyed the Lucky Wheels in that game, but for some reason didn't like the multipliers or Cascading Reels, you can indulge in this slot instead.
It certainly has an appeal for those who enjoy a more fruit machine inspired theme, so if you fall into that category, you might want to check out Fruit Spin.
>>> Play Fruit Spin Now! CLICK HERE TO CLAIM $/£200 Bonus Now! <<<<