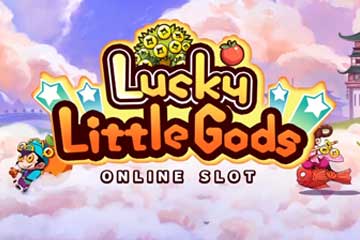 Lucky Little Gods isn't something new to Microgaming, but it was certainly something that people have no doubt wanted, even if they didn't know they did. There's nothing about it that particularly stands out, but everything matches up and works surprisingly well.
The Little Gods are obviously inspired by Chinese Gods of Fortune, who are revered during the Chinese New Year, but are drawn in a chibi art style that makes them into adorable versions of themselves. Appeasing cuteness, religion, and culture in the same go takes a bit of know-how, so leave it to Microgaming to eek out that perfect balance while making an enjoyable game.
Lucky Little Gods offers gamblers a 5×3 playing field with 243 ways to win. The symbols include the Gods of Fortune, several Chinese symbols in various colours, and various forms of Scatters, such as a pair of loving firecrackers, a golden tree, and a treasure pot. It's these various Scatters that you need to keep an eye out for, as each gives its own bonus.
Treasure pot and golden tree both awards a cash prize once their requirements are met, while the firecrackers can award a fixed amount of free spins that can be increased by winning more Scatters for the duration of the bonus. Finally, there is a randomly triggered Little Gods bonus that can appear on any non-winning spin, which rewards a small cash prize.
Developer
Microgaming has been around for a while. They're based in the Isle of Man, in the United Kingdom, and have been a driving force in the industry since 1994. Odds are if you've played a slot online, you've played Microgaming, as they have a massive amount of casino games, over 850 total, including licensed projects and their own titles.
The developers are staying busy – as just recently, they've made a partnership with several gambling websites to provide Quickfire content, and have donated to a number of charities to the tune of 30.000 pounds this year, a tradition that Microgaming has kept up for five years now.
How to play it
Lucky Little Gods certainly seems to have an art direction it has chosen and it runs with it rather well. The chibi look adds to the cuteness of the entire thing, and while it's not quite our cup of tea, we can imagine there are fans who will no doubt enjoy it. That said, we do have some concerns, as chibi and anime are more Japanese art styles rather than Chinese ones, and we have to wonder if Microgaming is simply trying to pander to the entirety of the oriental market at once, or if it's just a bit of cultural ignorance on their end.
On the gameplay side of things, it's rather enjoyable to play. It's a medium volatility title that has frequent, small cash wins, which sets you up to play for a longer time in hopes of winning some of the larger prizes.
This is a slight complaint we have with some of the Scatter wins, as the cash wins from them can be good, but nowhere near as profitable as the free spins. We doubt anyone will complain if they win a 100x their wager from the treasure pot Scatter, but it's still something that Microgaming should keep an eye out for in their later releases.
>>>> Play Lucky Little Gods Now! CLICK HERE FOR $/£200 BONUS<<<<
Special Features
There are three Scatters in total. Treasure pot only appears on the third reel, and rewards between 20x and 100x your bet when it does. The golden tree Scatter can appear in both the first and fifth reel, and rains golden coins on all icons beneath it, duplicating all the coin rewards of those symbols.
The third Scatter are the firecrackers, which can activate free spins if you have three or more. The amount of extra turns is always fixed to 8 free spins, but any additional firecrackers won while the bonus is active can add additional spins. For the duration of the special feature, the first and fifth reel are always Wild.
On top of this, there is also a Little Gods bonus, which is activated randomly. It only appears in the base game and on a non-winning spin, rewarding a cash prize between 4x to 40x your bet.
Maximum Payouts
The biggest payouts of Lucky Little Gods come from the bonuses it offers. The free spins take the cake when it comes to potential, but the other Scatter wins can certainly make their mark.
We've had plenty of luck with the treasure pot, as it often produced some nice wins for us, though sadly, we can't report the same fortune with the golden trees. With a 96.2% RTP, it can easily earn you back the money, with just a little bit of luck. And if you're real lucky, you get to walk off with plenty of cash in your pocket.
Summary
Our opinion on Lucky Little Gods is overall positive. The art style isn't quite our thing, but it is well executed, and it is obvious effort was put into it.
The gameplay side of things is reliant on winning the various Scatters to pull ahead and get some decent wins. It's not a game for everyone, but if you enjoy the things we mentioned above, you'll probably have fun with this Microgaming release.
>>> Play Lucky Little Gods Now! CLICK HERE TO CLAIM $/£200 Bonus Now! <<<<