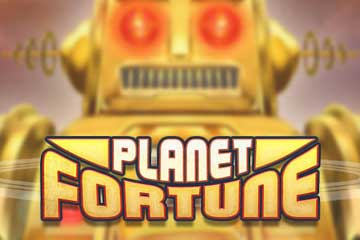 It's often odd to think in terms of retro-futurism. After all, how can futurism be retro? Still, it's an art style we quite enjoy, and it captures a wide compass of styles. From the creepiness of those original Alien movies, to something like the Jetsons.
Planet Fortune certainly seems to be closer to the Jetsons comparison. Clunky looking robots, a mixture of pin-up and futurism for the human characters. Honestly, it's quite a cool look that we're a bit sad isn't used more often, but Play'n'Go seems happy to use it to help their newest release stand out, and we couldn't be happier.
Planet Fortune offers gamblers a 5×4 playing field with 40 paylines. Some of the symbols are unique, such as the robots, the human characters, and the various crystals you can find on the reels. The rest of the icons, however, are poker card symbols that were shaped up into looking a bit futuristic.
Honestly, it looks lazy in our eyes, but the rest look really good, so we're a bit torn on how we feel here. When it comes to special features, there are two bonuses gamblers should keep an eye on.
The first is Magnetic Mayhem, which means that some reels can randomly combine into larger, mega symbols. The second is Robot Revolution, which is essentially a free spins special feature. Three or more Wilds will reward ten extra turns, and for the duration of the bonus, all Wilds remain sticky, and move one reel to the left on each spin.
Developer
Play'n'Go has had a fair amount of time to worm their way into our hearts. They don't have the sudden star power of some smaller studios, and they don't have the sheer manpower of the bigger developers, but they've consistently put out decent and great games that we've enjoyed.
We're not the only ones to do so. Play'n'Go has won Slot Provider for the second year running at the 2018 IGA's, and are currently in the running of several Global Regulatory Awards, and have released several high quality slots that we can't wait to try out, as well. As far as 2018 goes, Play'n'Go is shaping up to do even better than last, and we can't wait to see what that brings us.
How to play it
The graphics of Planet Fortune have quite impressed us, honestly. Most of it comes down to the art-style of retro futurism, which is a breath of fresh air in the midst of a bunch of generic sci-fi looks that seem to pop up in every other game. The animations are well done, as well, and you can tell Play'n'Go put in a lot of time and effort to make their release look as good as it possibly could.
But beyond just great graphics, there's a lot of effort put in to make the gameplay just as enjoyable. It boasts a 96.5% RTP and a high volatility that will no doubt keep quite a few gamblers entertained.
Having said that, you should prepare to spend a bit of time before things kick into your favour, but that's something that's well known to be part of any high variance title. The special features are also a somewhat mixed bag in our opinion. At times, they were really good for payouts, while at others, we won next to nothing, to the point where it felt like a waste.
>>>> Play Planet Fortune Now! CLICK HERE FOR $/£200 BONUS<<<<
Special Features
There are two bonuses to speak of. The first is Robot Revolution, which functions as the free spins. Rather than having Scatters separate, Planet Fortune attaches this bonus to Wilds instead, and asks that you have three Wilds present at the same time on the reels to activate ten free spins.
It's impossible to retrigger this special feature, but all Wilds that have activated it, as well as any additional ones that appear for the duration of the bonus, will become sticky, and move once to the left each time a spin happens. With the frequency of Wilds appearing during this special feature, however, it's not unfair to say that the game can pump out some awesome rewards.
The second bonus isn't quite as impressive as the first. It can randomly force several symbols to appear stacked in 2×2 or 3×3 mega symbols, which is great for forcing a win, but it isn't a guarantee of that happening. We've had it happen a few times while playing, but never to a useful effect where it impacted us in a positive way.
Maximum Payouts
Free spins are king when it comes to Planet Fortune. Gamblers that want to win the absolute maximum will require these to pull it through.
The amount of Wilds, and the fact they're sticky, helps immensely, and with the right placement, that 2500x stake maximum win that the game boasts about seems that much closer. There are a few other moneymakers in this slot, but nothing on the level of consistency as the free spins.
Summary
The theme, graphics and animations were top notch, and we wish more developers implemented them. The gameplay was good, if a bit irritating at times, but we were overall satisfied.
It's not the best thing we've ever played, but it sits at a comfortable above average as far as we're concerned. If you enjoy chasing special features and like the art style, go ahead and give it a go.
>>> Play Planet Fortune Now! CLICK HERE TO CLAIM $/£200 Bonus Now! <<<<