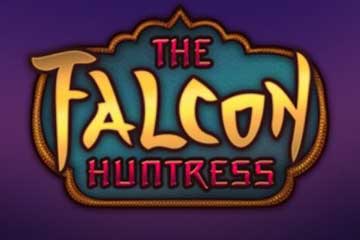 Some themes just capture our imagination better than others. Some pass by in a quick fashion, while others stick around for a while. How many Irish slots have we played, despite the fact that there aren't that many being released now? How many games that use Oriental art styles were around before the massive Chinese market was opened up, and gambling companies poured in to appeal to new customers?
Or the familiar point in time where it seemed like every newly released slot looked like it was made with the assets of a scrapped Disney movie based on how sickeningly cutesy it was. But occasionally, you'll see something that hasn't been done to death, and which you will really like. Thunderkick live up to their push of originality once more, as they base their newest release around Mongolia and a falcon huntress.
The Falcon Huntress has a 5×3 playing field with 9 fixed paylines. It offers some unique symbols, such as the huntress, her trusty bow, the egg her falcon has laid, and a feather which she uses as a good luck charm, and the falcon itself acting as a Wild and Scatter all in one. On top of these there are several poker card icons which are stylised in a Mongolian fashion, and while we're usually against these, they were done interestingly enough for us to withhold judging it too hard.
The defining feature of this Thunderkick release lies within its Expanding Wins. When a win happens, it can randomly kick in, which will expand the winning icons to take over the entirety of that reel. This works for all symbols except for the Wild.
Developer
When we think of Thunderkick in our heads, we still see them as a relatively new entry into the slot market, although they've been around since 2012, which is almost six years by now.
They're based in Stockholm and Malta, from which they operate as an independent casino game supplier, which was part of their appeal when they first came out. They brought forward unique, high end productions, filled with industry veterans who wanted to make different games, in a similar vein as Yggdrasil would do just a year later.
Thunderkick has certainly remained a force. In the recent Videoslots awards, they won the best low volatility game, as well as best mobile game of the year, and as further testament of quality, there's recently been a massive, juicy win documented for one of their most popular titles, Pink Elephant.
How to play it
We quite enjoyed the visuals of The Falcon Huntress. You usually can't go wrong with Thunderkick, as their titles often look gorgeous.
The static, boring backdrop is enhanced by a few animated pieces, such as the braziers, the banners, and even the tent, which makes the reels look like a pair of long curtains with the symbols acting as embroidery. It's a level of detail that really goes a ways in to immerse you, and it's sadly a bit lacking with bigger name developers.
On the gameplay side of things, it's undoubtedly a high volatility title that's waiting for someone to get lucky and take that highest possible win. The presence of Expanding Wins is a huge deal, much more so than it sounds on paper.
We sadly didn't have much luck with it, but from what we've seen, it can pull off some really amazing scores. Having said that, it is a grind to get to that special feature, so it goes without saying that you'll want to have plenty in reserves while you're chasing a big win.
>>>> Play The Falcon Huntress Now! CLICK HERE FOR $/£200 BONUS<<<<
Special Features
There's a free spins bonus, but it is rather bog standard. For three or more Wilds, you win ten free spins, as well as a cash bonus, which can go rather high – up to 200x for five Wilds. The amount of free spins is fixed, but it is possible to retrigger the bonus with three more Wilds, which will grant another ten free spins.
The real strength of The Falcon Huntress lies in those Expanding Wins. The downside of this special feature is that it activates randomly, and it doesn't work on Wilds, so you can't chain into a free spins bonus from a really lucky Expanding Win. Having said that, the sheer winning potential of this bonus is too important to pass up.
Maximum Payouts
But don't take our word for it. Say you want to claim the highest possible prize of 10,052x your wager. The only way to do that is to get either insanely lucky and get a whole reel full of huntresses.
Or, far more likely, a few well positioned huntresses will use the Expanding Win special feature to fill the reels and net you the biggest jackpot you can take in this entire game. Keep in mind this is not going to be something you'll be seeing often – but the possibility of it is what drives us to high volatility slots in the first place.
Summary
It has a unique setting, it's gameplay stands out from what we consider standard, and there's a very distinct sense of identity that Falcon Huntress has.
On top of all that, it has a high volatility, and a really good jackpot to chase after, which bumps this up into one of the more high quality games we have played so far in 2018. We're happy to see Thunderkick still hasn't lost their touch, and we can't wait to see what else they have in store for us.
>>> Play The Falcon Huntress Now! CLICK HERE TO CLAIM $/£200 Bonus Now! <<<<