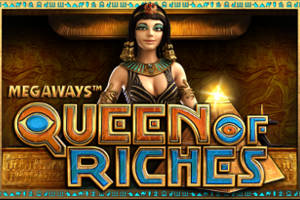 Power and wealth of an ancient Egypt await you in the Queen's gold-laden chambers for a nervy ride which will have you excited from start to finish.
Common subject in an uncommon and unorthodox manner, presented through six reels of a unique MEGAWAYS technology is bound to have you nailed to your chair. Trust us. You will have plenty of fun playing and potentially winning.
What We Love
We talk for ourselves as you will have to share your opinion on the matter, but we love those Egyptian themes. That is the first thing that draw us close to this fascinating game and great graphics only improved the feeling.
Another thing is that MEGAWAYS approach, a technology so far having been implemented in just one more game – Dragon Born – also a Big Time Gaming's jewel. This approach offers more than 100,000 winning combinations through different-sized symbols and it is quite enough to have you feeling excited throughout.
Full Reel Wilds is another thing we love as it offers great chance to claim great wins. A Queen will graciously step upon your reels, covering all of the columns and increasing your odds of comprising a winning combination. Should you get lucky enough to notch two or more full reel wild queens your wins will be multiplied and you will be able to collect hefty payout.
>>> Play Queen of Riches Slot Now – CLICK HERE <<<
What We Do Not Like
We know that tastes are not up to a debate and that some of you will find all of the stuff we love to be boring; and vice versa.
Simply put, the excitement and suspense can be a bit too much as you will not have a single moment to relax. It is just because you never know what you'll get, but that is supposed to be a whole idea to have your adrenaline working hard, right?
If we are to pinpoint an exact shortcoming to this universally loved theme and a uniquely presented game that it has to be payouts. How on earth with 117,649 ways to collect a win, you might ask. Quite simple though. We understand that a RTP of 96.9% does not work in our favour and we are not willing to argue about the regularity of your wins. We are simply referring to the size of those wins as they rarely exceeded 30x our initial bet during our testing spins.
If you want to make your wins count and if simple thrill of uncertainty is not enough for you then you need to set the bar to your highest bet of $40 and hope for the best.
Worth Playing?
Even if it is just for the kick of it – definitely. Queen of Riches is a thrilling game build upon the state of the art, ground-breaking technology called MEGAWAYS which is bound to excite all kinds of players who haven't tested it yet.
Engaging graphics add to the wholesome appeal of this wonderful video slot that is available through all platforms. Big Time Gaming made sure to have the Queen of Riches follow you wherever you may go and test your ability to resist her magic.
With 117,649 ways to win and a bit of luck you might get the full package and a complete experience of having fun while landing hefty winnings as well.
 >>> Play This Slot Now! CLICK HERE TO CLAIM $/£200 Bonus Now! <<<<