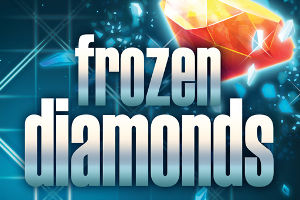 Tired of these hot summer days, are we? Let us take you on a trip to the polar icecap with the latest Microgaming and Rabcat's game called Frozen Diamonds.
We promise snow, winds, ice blocks and some blasting fun for potentially great rewards. Any takers? Just to kindle your imagination, this is not the ordinary diamond game, it is a 5-reel, 20-payline slot with cascading reels, free spins and wilds + extra wilds and multipliers added to the reels. Now, are you interested?
What We Love
We love the surprise effect. Looking at the title before we actually launched the game, Frozen Diamonds got us thinking "Oh, no. Not another girly diamond game". Not to be mistaken for chauvinists that we are not, we have nothing against girls and their games, on the contrary. It is just that we thought Frozen Diamonds will not be as fun as it turned out to be.
Microgaming teamed up with Rabcat for an ultimately brilliant result and a graphically great game. Visuals are very different to what Microgaming usually produces as Rabcat did well to rubber-stamp this product with their unique 3D touch and polish those ice cubes to perfection.
Frozen Diamonds feature cascading reels of symbols that drop down after each spin and get blown away whenever you land a winning combination. It is quite a neat touch everybody seems to be attempting to adopt with the game basically offering sticky symbols and free games more often than it was the case before with that classical spinning approach.
Special Features are not many, but they are quite sufficient to add to the depth of the game. You can hope to get Free Spins, Wilds and multipliers which is all you want in a game.
>>> Play Frozen Diamond Slot Now – CLICK HERE <<<
What We Do Not Like
We hate to be the first ones to mention it, but we are quite interested to know why are so many developers still going for the classic game symbols in their games? You are producing thrilling slots, breaking barriers and exploring frontiers with innovative details and touches that go far beyond the classic label and you still go for 10, J, Q, K and As? We don't get it.
Frozen theme gives you so many options in regard to symbols that could have been used as lower denominations, yet Microgaming and Rabcat still went for cards.
There is one not that of a subjective aspect to the game which can be considered a shortcoming though. The game is quite affordable and that is always a positive thing, but with $40 being your highest bet and $2,000 your maximum prize, those who consider themselves high rollers might not be too enticed to sit down and have a spin or two. Perhaps the creators could have raised the bar just a little bit.
Worth Playing?
You might have guessed it from this news article, we are not big fans of diamonds. We thought that we would hate this game, but we are happy to report that is not the case. We love it.
It is highly innovative with its cascading reels, symbol blasting, 3D graphics and quite unique Gamble Feature which only adds up to the depth of the slot. Do try it, enjoy it and you won't regret it. We vouch for it.
>>> Play This Slot Now! CLICK HERE TO CLAIM $/£200 Bonus Now! <<<<