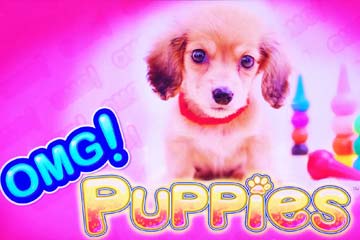 Adorable and fun, cute and dearly loving, OMG! Puppies is a game that is a proper refreshment to spinning video slots that we usually encounter.
Symbols and animations in this game are perfect if you are looking for a stress-free pastime. Williams Interactive have already appealed to all of the cat lovers with their OMG! Kittens, but this time it is dog lovers' turn with this fairly similar and equally exciting video game.
Five reels with dog-related symbols and four different puppies as Wild, Scatter, Multiplier and Bonus symbols make up for the rewarding experience of the game.
What We Love
As always, we will start by describing the obvious. Game creators put a lot of effort into delivering a superbly presented video slot. Visual appearance, sounds and audio effect, but Free Spins feature and special effects are nothing short of impressive as well.
The Bonus round is the most exciting part of this game. It is basically a Free Spins feature which is initiated by puppy symbols through your first four reels and the OMG! Free Spins symbol on the final reel. Free Spins are a three-way mode consisting of free spins number, win multiplier and a Scatter payout value which are all determined with the help of a game's Wild.
Apart from great Special Features and exciting Free Spins round, the game offers a comforting 10x bet win during base game, which is also something to look for.
>>> Play OMG! Puppies Slot Now – CLICK HERE <<<
What We Do Not Like
Even though we are more of dog lovers, we haven't been particularly impressed. It is true that OMG! Puppies is one cute and loveable game, but all of that cuteness overload can make your stomach turn from time to time.
Talking from the subjective perspective we think that this game is too colourful, too bright and too cute for our taste. We guess that ladies will enjoy in this relaxing video slot, but gentlemen will be disappointed not to see a Doberman in example hidden somewhere inside.
Base game is pretty unrewarding and low-paying symbols are not that enticing. Should you not be that fortunate to hit puppy symbols any time soon after your first spin we bet you could get tired from spinning in a short period of time.
Worth Playing
Making a final verdict on a game like this is not an easy task. It really depends on what you are looking for from a video slot.
All of you who just want to relax on a sunny afternoon will love spinning these reels waiting for those cute little eyes to knock you off your feet. On the other side, if you are a serious gamer and are looking for a game that will thrill you and get the adrenaline going, than you are definitely barking at a wrong tree – sort of speaking.
Truth be told, you can claim a 500x your bet wins if you get lucky enough to land a high multiplier value, but do not get too excited as it happens not very often.
 >>> Play This Slot Now! CLICK HERE TO CLAIM $/£200 Bonus Now! <<<<