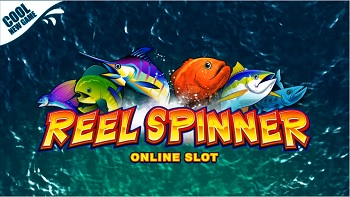 Get ready for a hot summer this year with Reel Spinner as Microgaming's latest titles that will be released sometime in July. A deep sea fishing theme features 5 reels, 3 columns and 15 paylines with a promise of new functionality and popular features as a winning combination.
This video slot is available to play across all devices and the main attraction of this 5-reel slot is the two-stage Free Spins feature which can ultimately award you with up to 10,000 times your initial stake on every free spin.
What We Love
We love to start this section by stating the obvious. With regards to the appearance, Reel Spinner is a colourful game with exciting audio effects and a theme revolving around sun, sea and a relaxing sport most of the male population loves.
Games simplicity is another neat feature and it is a fitting match for the sport itself. Free Spins is everybody's favourite feature and in this game it is presented through a two-staged scenario where you will go from picking a number of free spins by choosing one of six boats to spinning the fishing reel to find out which multiplier will be applied to your bet. You can go up to 20 free spins and up to 5x multiplier.
What is more, there are wilds stacked throughout this feature which only increases your chances of hitting a win. Spins, multipliers and Wilds all make up for the possible win totaling 10,000 times your initial stake which makes this game a pretty exciting one knowing you can earn up to $112,500.
>>> Play Reel Spinner Slot Now – CLICK HERE <<<
What We Do Not Like
We would have liked to have tried it first before filling in this section of this article, but it won't be before July before we actually get the chance to test the deep waters of Reel Spinner.
A name and a promo to the Microgaming's latest title is still quite enough to give us an idea of what to expect and we must say that Microgaming should slow their pace down a bit. Renowned for creating at least one game each month, the creators of Reel Spinner are starting to lose a bit in the battle between quality over quantity.
Two-layered Free Spins round is all you get when it comes to special features. Multiplier added to free spins is a neat feature, but it is not the biggest revolution that will have you hooked up to this particular title. Free Spins cannot be retriggered and that is another shortcoming to this video slot as well.
Worth Playing
Every game should be given a complimentary round before making a final verdict and we must say we're pretty excited to try this Microgaming's latest video slot despite the obvious shortcomings to their July product.
Despite the fact we will be treated with nothing more than a single special feature, Reel Spinner is game that can possibly make your time worthwhile with substantial winnings at offer with up to 10,000x your initial bet and if that alone is not enough of an excitement to try this title than go ahead and have a spin or two just for the kick of its bright graphics and cool music.
 >>> Play This Slot Now! CLICK HERE TO CLAIM $/£200 Bonus Now! <<<<