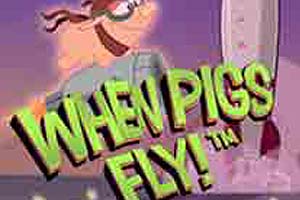 NetEnt have prepared a special title for the summer with When Pigs Fly as their brand new edition that is bound to be a highly exciting fixture due to get out on 21 July.
A 5-reel video slot with not less than 3,125 paylines at disposal, this medium variance game takes action on a curious cross-shaped reel grid going from a diamond-shaped formation in a 1-3-5-3-1 system to a full 5×5 box.
NetEnt made sure to spice this game with excellent graphics, an exciting Wild symbol, re-spin with every win and Free Spins feature that are likely to excite you throughout.
What We Love
Filling this category is not that difficult even though we are yet to have a taste of this game. When Pigs Fly is our personal favourite as we love everything that has that carefree feel and cartoon-style atmosphere around it to take away from your every day's worries.
Brilliant graphics and a modern 3D feel are always a welcome touch, but gameplay is what makes this video slot particularly exciting.
We have never seen such a dynamic reel outset so far with your grid going from a diamond to a full box consisting of 5×5 reels and columns. It will be very exciting to have a go at this game that boasts 3,125 possible ways to win and that is another aspect of this game to feel excited about.
Every time you nail a win you will be given a re-spin and up to 5 of those with two symbols added to your reels at every spin. A win at your fifth re-spin will trigger a Free Spins feature that will give you additional eight spins and a change of scenery with a pig astronaut taking you deeper into the universe which is quite a neat touch to be honest.
>>> Play When Pigs Fly Slot Now – CLICK HERE <<<
What We Do Not Like
It can be hard and tricky to do this at this particular moment with game not officially out yet, but we could talk about some negative aspect just by analysing the promo video of this exciting game.
Re-spin and Free Spins features are two nice little touches from NetEnt, but we would have liked to see a bit of more action to this joyful game. A multiplier here and there would have been a great detail that all gamers would appreciate, that is for sure.
We are sure that shape-shifting grid will be a bit confusing as you count your way from 45 to 3,125 winning ways and an expanding screenplay which you never know what it will look like. It may not be the case once we actually get a feel of this game, but we will have to wait just a little bit more to confirm this assessment.
Worth Playing?
We can only speak for ourselves – we are itching for this game to be released. Cartoon and carefree games are our cup of team and we are really looking forward to have try with this exciting, never-seen-before cross-shaped reel grid and up to 3,125 ways to win.
NetEnt are promising that When Pigs Fly is going to be a rewarding game with some nice features in store and our final verdict regarding this highly exciting game.
 >>> Play This Slot Now! CLICK HERE TO CLAIM $/£200 Bonus Now! <<<<