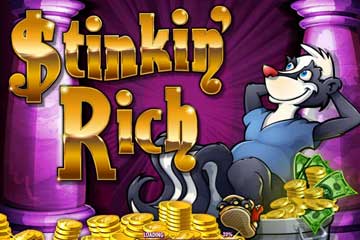 Stinkin' Rich is a video slot using a 5×5 structure with the third reel containing only three cells. It is developed by IGT, a gaming company renowned for its over three decade long casino games production which was until recently available only to those players who gamble at land-based casinos. This particular game has been recently optimized for online play and it offers up to 100 adjustable paylines.
Its humorous theme is fulfilled by the icons of rich people and stinking items contributing to the message the game conveys as a play on words targeting extremely rich people. The star of the video slot is a skunk dreaming of becoming stinking rich, so join it in a smelly adventure and you may win big.
What We Love
The game provides you with decent payouts mostly due to 100 ways to win as you may hit many winning combinations simultaneously. While an entertaining music score sets the mood of the game, rewarding features such as Scatter delivering up to 100x total bet, free spins and picker bonus feature contribute to the increase of your balance. With up to 20 free spins along with stacked Wilds and another bonus game delivering up to 40x multiplier, your odds of winning are pretty high.
>>> Play Stinkin' Rich Slot Now – CLICK HERE <<<
What We Do Not Like
Despite all its special features, the visual appearance of the video slot machine is really not worth mentioning. The theme of the game is far-fetched and the visuals seem to serve to it, but altogether they are so lame that you just cannot accept the way they are designed.
Another thing which bothers us is the betting range offering $1 per line the minimum stake, which practically means that if you want to play at all the paylines active, you have to place $100 per spin, which is outrageous. On the other hand, if you deactivate a group of paylines it will lessen your winning chances and turn otherwise rewarding structure into an just another bad looking slot.
Worth Playing?
If you have to spend at least $100 per spin and you can stand these poor graphics, go on and try Stinkin' Rich slot out. The overcrowded reels in all the vibrant colours on a white background may cause your eyes go twitching while your balance might be affected in a negative way. As the game is obviously designed for those who play at large sums, high-rollers might be delighted with the fact that they can wager up to $3,000.
If you manage to create a lucrative combination at such a bet, you may win a life-changing payout in a single spin. If you are a low-roller you should immediately look for another game and our recommendation is Piggy Riches, a video slot from NetEnt using a similar theme but with a humorous twist. You can enjoy some nice visuals and a smooth gameplay at affordable bets.
 >>> Play This Slot Now! CLICK HERE TO CLAIM $/£200 Bonus Now! <<<<