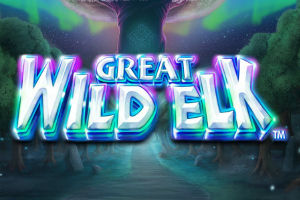 Nature lovers will enjoy the alternative world of magic that is within reach with the Great Wild Elk video slot from NextGen Gaming.
This feature-rich, 10-payline online slot boasts plenty of excitement both during the base game and within the special features that will increase the winning potential which could seem limited initially knowing that there are only ten paylines in the game.
What We Love
Great Wild Elk is a hypnotic game and we like everything about it.
First and foremost, we love it that NextGen Gaming decided to step out of everybody's comfort zone of the classic arcade games and familiar themes and subject that have been recycled for years now. This fantastic game is introducing an original theme of a magical forest and a nature-loving world filled with spellbinding animals and Elven Princesses.
Music is another aspect of the game we love as it goes perfectly with a soothing atmosphere of the game itself.
Features are nothing short of impressive as well. A random Elk's Light Feature in the base game ensures the outcome of an ongoing spin will result in one or more payline wins as it turns runes into high-paying symbols.
Free Spin Bonus adds a continuously increasing add-on bonus reward titled Enduring Win, which is activated when Wild and Scatter appear together. These two trigger a pay-boosting feature which comprises all rewards won from the outcome of bonus spins.
What We Do Not Like
Being huge nature and animal lovers as we are, it can be pretty tough to talk about negative aspects of the game as we might be blinded and mesmerized into not seeing the obvious.
Some might say that this theme is a bit childish and too similar to the nature aspect of the popular movie franchise such as Lord of the Rings, but we see nothing wrong in it. Perhaps we are wrong.
However, the game oozes positivity and optimism and it also raises the awareness of the nature's problems we ourselves have created as we risk losing this beautiful world. Ok, the world within the Great Wild Elk slot is imaginary, but are we too far from the truth?
One true negative aspect of the game we can pinpoint is that this Great Wild Elk is not easy to catch. We had more than a few spins and we haven't been that fortunate as to run into the Elk, so we can assume that game's main feature is not easy to achieve. Such a shame.
Worth Playing?
We believe our view on this game is quite obvious. Great Wild Elk is a brilliantly constructed game with engaging graphics and audio, which are complemented by plenty of rewarding features both in the base game and during Bonus round. If you are looking for both beautiful and rewarding slot gaming experience then Great Wild Elk is a must try.
We guarantee you will fall in love with this slot from the moment you lay your eyes on the screen.