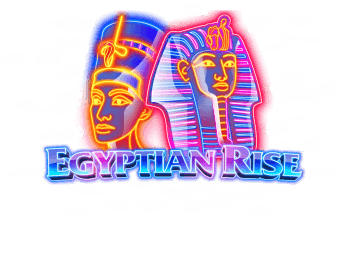 Bright colours and neon lights are not exactly things you will associate with ancient Egypt, but NextGen Gaming and their partner Side City from Canada have come up with this unique solution to spicing up a familiar and overly exploited subject.
Five reels with the total of 243 ways to win of a game that is playable across all devices offers neat features and rewarding options that will have you forget this game is all about that "boring" Egyptian theme. You would be surprised to learn that this game of Egyptian Rise is much more than your usual game.
What We Love
First of all, let us express our admiration for one of the perfect options you will find in each game coming from NextGen Gaming's creative kitchen. Gamble feature is something we simple adore as it is there to entice your risky nature and to push you on the edge as you put all of your winnings on the line guessing the colour or suit of a hidden card in attempt to double or quadruple your wins. We simply love this.
Additionally, NextGen made sure that you fell in love with this game by incorporating the "On a Roll" feature.
Basically, your every winning combination will be rewarded with a free spin, four in total with this particular title since your fourth consecutive win will initiate the Bonus round. What is more, every win will be followed by a Scarab Beetle Wild, which means your chances of landing huge wins are significantly increased with all of the game's features.
The main attraction of this game is the Pharaoh Feature which awards you with unlimited free spins and a chance to fill your reels with five fully stacked Wilds for the maximum win.
What We Do Not Like
There is a detail that can be considered a shortcoming to this game. Even though Egyptian Rise is quite an affordable title, having in mind that most gamers like to keep their bet up high to the maximum limit could make the $80 a tad too much for some of the players that are unwilling to spend that much on an Egyptian theme.
Truth be told, we are not too big of fans of the entire Egypt theme either. Yes, those neon light did their thing in making us forget for a moment that this is a classic Egyptian slot, but those flashy lights are a bit over the top in our opinion as well. Luckily, there is plenty of neat features in this game to keep you occupied.
Worth Playing?
All personal preferences aside, we ask you to keep an open mind when it comes to the Egyptian Rise video slot by NextGen Gaming. Neon light and flashy colours were meant to hide the fact this game is all about pharaohs, scarabs and other ancient Egypt symbols, but rewarding features are what really counts in this game. Re-spins, Free Spins, Stacked Wilds and endless spins make this 5-reel video slot a must try this summer.