Greek mythology has always been an endless source of inspiration which never gets old or boring. How could it not be with so many gods, goddesses and fairy beings holding powers to rule the world and human fate?
Leading gaming software providers Playtech have created a series of slots titled Age of Gods and this time we present you the latest one revolving around three Fate Sisters: Atropos, Lachesis and Clotho. According to the mythology they control lives of gods and people and decide their fate.
Similarly, they will decide your fate in this 5 reel 25 payline progressive slot, but they will reward you as well. Walk into their temples and you can win Free Spins, dynamic multipliers or if the sisters really like you, the Ultimate Power.
What We Love
It's hard not to love this progressive spinner set in the temples of ancient Greece with the immersive soundtrack that drapes Fates sisters in the veil of mystery. At the very first sight you see that the game holds surprises under the Mona-Lisa smiles of beautiful Moirai.
Atropo, Lachesis and Clotho are there to decide your destiny, but actually they are pretty generous in this slot. When three ice-blue whirlwinds appear on your screen they will summon the three sisters which appear before you offering three different Free Spins Bonus round.
You can choose which one will take you to her temple and spin the game for you. We thought it was a nice touch from Playtech to allow the players to choose the Bonus option themselves.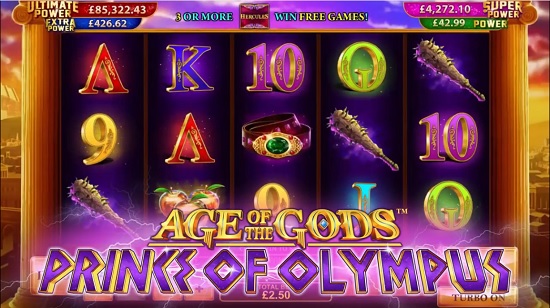 >>> Play Age of Gods Fate Sisters Slot Now – CLICK HERE <<<
The biggest attraction of the slot are definitely the jackpots and the Greek sisters prepared four different jackpots which are triggered randomly in a special table that comes filled with golden coins.
We loved the fact that once the table is activated it means that you are definitely going home with a jackpot even if it is the lowest one. Surely, everyone will hope for the Top Award of $100,000.
What We Do Not Like
This medium variance game comes with a coin value of $0.25 to $250 which is a wide range to suit all kinds of players but still if you are hoping to land that Ultimate Power award you will have to bet big and for some it might be too much having in mind the high volatility of the game.
Worth Playing?
We had no doubt that Playtech will live up to the expectations in their Age of Gods Slots. Fate Sisters is a worthy addition to the series offering a range of exciting and profitable features good enough to suit every kind of player.
With a wide enough stake range you can choose the Free Spins with the addition of frozen or random wilds or multipliers. While those who like take the risk and bet big in search for a massive jackpot there is $100,000 waiting to be won. All in all, we believe that anyone can find a reason to pay a visit to Fate Sisters.
>>> Play This Slot Now! CLICK HERE TO CLAIM $/£200 Bonus Now! <<<<