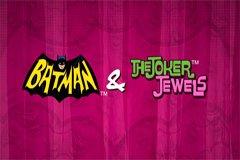 Those who remember the famous TV Show from 1960s about the adventures of Batman and his hero helper Robin will definitely rush to spin the latest slot from Playtech, Batman and The Joker Jewels.
The slot borrows the actors from the series, that is, their pictures and short sequences from the episodes and combines it with elements of comic book style and cartoon-like soundtrack.
Even if you do not belong to the older generation that enjoyed watching this hit series, you will love this funny and optimistic version of Batman. What you will love even more is the chance to win one of four progressive jackpots with the top prize exceeding $1,000,000.
What We Love
We have to hand it to Playtech for creating two perfect slots based on the popular series from 1966. As a result of a deal with Warner Bros. to launch a series of DC Comic-based slots, the first two based on Batman TV Series are out: Batman and The Joker Jewels and Batman and Catwoman Cash.
We are looking at Batman and The Joker Jewels sporting 5 reels and 25 lines and features so well-balanced with the theme that this game promises tons of fun next to hefty prizes.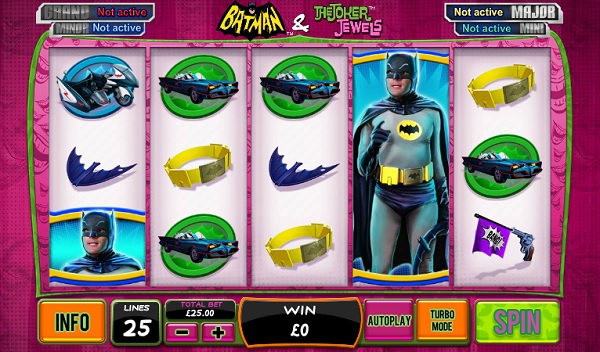 >>> Play Batman and The Joker Jewels Slot Now – CLICK HERE <<<
First of all you get to benefit from the master of evil practical jokes, as he appears as random in-play bonus adding up to nine Wilds and in our case he paid us a visit every now and then with his infectious laughter.
Another useful addition to the base game is the existence of two Wilds to suit both sides. Both the Batman signal and Joker's Smile will pay 2,500 coins for five of a kind and replace any symbol except for the Bonus. The main bonus game comes down to Free Spins, but these come with handy and amusing perks.
Thanks to Bat-Tastic multiplier meter you can earn a multiplier between 1x and 5x your wins, while you also get to play for free until the multiplier reaches the end of the meter. In practice you won't get more than regular 10 Free Spins but the multipliers will bolster your balance significantly.
And now for the main treat of the game. The adventure with the Caped Crusader holds massive prizes within reach through four progressive jackpots.
At any time in the game a screen with twenty tiles can appear prompting you to pick the tiles and reveal the colours that represent Mini, Minor, Major or Grand jackpot. The top prize awaiting here can see you off with $1,000,000 or more.
What We Do Not Like
It should be noted that, in our opinion, Batman and the Joker Jewels comes without a single flaw. However we can put ourselves in the shoes of a younger crowd in which case the theme does seem a little outdated. We would have liked it better if there were pictures of Jack Nicholson as a Joker but Cesar Romero works just fine too.
Worth Playing?
Batman and The Joker Jewels is an exciting slot which perfectly combines the branded theme and the features, so the result is a completely immersive experience. Even if you haven't seen the TV series, you will be thrilled by in-play Joker Wilds and bonus Free Spins with a 5x multiplier.
This is a medium variance slot, so you won't have to worry about your balance while you are waiting for the massive $1,000,000 jackpot. Our final word is that you should definitely take this one for a spin.
>>> Play This Slot Now! CLICK HERE TO CLAIM $/£200 Bonus Now! <<<<