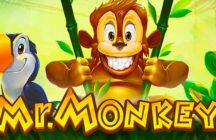 An adventure of a lifetime, an experience unmatchable to any other – a journey to the wild and innocent jungle! It sounds exotic, exciting and almost breathtaking!
Let the adrenaline settle down and make friends with the cheeky Mr. Monkey for he is going to be your guide through the slot machine's thrilling gameplay.
With a fixed number of 50 pay lines, there are so many ways for you to win across 5 reels and 4 rows of jungle fever.
Nice, nature-driven scenery will get you in the mood for swinging with monkeys and jumping into bushes for excellent prizes and more friendly animal acquaintances.
Apart from unique specimens of flora and fauna, there are also Wilds and Scatters and rewarding bonus features to be unveiled, so don't fear the sounds of drums, as they are setting the rhythm to the immersive gameplay of Mr. Monkey.
What We Love
Truth to be told, despite being somewhat simple and lacking in modern attributes, Mr. Monkey is a very lovable game.
The graphics are not top notch, but what they lack in quality they compensate in soulful appearance. The gameplay feels like an amusing jungle story, and you are just drawn into the adventure. It really brings forward the gamer inside every gambler.
>>> Play Mr. Monkey Slot Now – CLICK HERE <<<
We praise the extra features, for their creative combinations and entertaining presence. How often do you see Stacked Wilds in modern slot machines?
The more the screen gets filled with the same symbol, the more you feel like a winner. Also, once you trigger free games, the balance you've acquired to that point stays safe until you exit the round.
What We Do Not Like
The theoretical RTP of 95% will turn off some of the statistics geeks, and leave more room for fun-seeking players. In all honesty, there's no fortune to be earned here, only a cheerful adventure to be lived.
If you want to stay loyal to GamesOS feel free to try out some of their slots of higher variance and a lot more pay lines.
Objectively speaking, for a game released in 2016, Mr. Monkey feels somewhat older in graphics, sound and a few gameplay aspects. Apart from that, it won't suit all types of players if we consider betting options as criteria. It's cute, we'll give it that, but in the cruel wild only the strongest can survive.
Worth Playing?
Mr. Monkey will be a joy for players who wish to be entertained, not so much for players who crave to get rich. Our conclusion would be that it will certainly satisfy a decent number of customers, but on the long run it might get overrun by technically advanced games and modern slot interfaces.
You can always play it for free before getting lost in the jungle for real stakes. So, give it a spin while it's new and fresh, and do give a chance to those Stacking Wilds and Super Stacked Free Games features, as they are not so common in current game developing.
>>> Play This Slot Now! CLICK HERE TO CLAIM $/£200 Bonus Now! <<<<