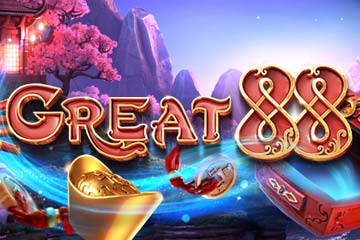 Tired of Asian-themed video slots? Don't judge too soon, as the new one by Betsoft presents a real treat.
Making use of the lucky number 8, indicating prosperity and wealth in Chinese culture, Betsoft has produced a 5-reel, 30-payline slot which cleverly uses the hidden meaning of Chinese charm symbols.
Sense of calm created by the meditative music playing against a peaceful temple scene makes an interesting contrast to an action-packed gameplay.
Features are almost too many to list, but you're likely to be entertained for hours with the likes of exploding firecracker Wilds, Free Spins, Multipliers and Bonus Wheels.
What We Love
We love attention to details demonstrated by the fact that each of the used symbols has a theme-related reason for being included. Besides the obvious number 8, you'll be playing with Chinese dumplings which symbolizes wealth, due to their shape resembling silver ingots used in ancient China as money.
Your highest paying icons include Chinese dragon, a symbol of benevolence and prosperity and rhinoceros horn which is one of the Eight Treasures, symbolizing happiness. And it just goes on.
Slot that is packed with features, as this one is, can never get boring. We appreciate players don't have to spin for ages before triggering them, which is so often the cause of frustration. Great 88 delivers generously, allowing you to activate Bonus Games relatively often.
>>> Play Great 88 Slot Now – CLICK HERE <<<
The least you can hope for is that Lucky Boxes open up to reveal one of the two top paying symbols and help create winning combinations with those already on the reels. Firecracker Wilds are one of the clever details, exploding to spread to other icons and turn them Wild.
Finding Bronze or Jade Coins in each of the Lucky Boxes is guaranteed to make you happy by awarding up to 15x your total bet or as many as 25 Free Spins. The ultimate joy, however, comes with Boxes revealing Golden Dumplings and giving you a chance to spin the Bonus Wheel.
Apart from winning Free Spins and Multipliers, you could trigger Mega Win Wheel and end up with a cash-out the size of 6,000 your total bet. Not bad!
Finally, we like that the game contains a Gamble feature allowing the player to double their win after each standard winning combination. While it keeps the game exciting in slots which come with longer no or low-action periods, this one doesn't really need it but it's still nice to have.
What We Do Not Like
Try as hard as we could, it was impossible to find a fault with Great 88. It simply has it all! Perhaps there was no need to populate the reels with so many different symbols, but even there we have to appreciate that the developer hasn't used the seemingly inevitable playing card icons.
Worth Playing?
Surely it's pretty clear, based on all of the above, how we feel about it. Beautifully executed and packed with action, you can't but enjoy playing another one of Betsoft's great productions.
We highly appreciate the attention they give to details, creating a slot that follows the theme to a T. Generous with features, it not only keeps you entertained every single minute, but also gives numerous opportunities for boosting your balance.
You don't really need to score the top prize to come out wealthier than when you started, but you're bound to be mesmerized by the potential of hitting the Giant Mega Win and snatching an impressive 6,000x your total stake.
>>> Play This Slot Now! CLICK HERE TO CLAIM $/£200 Bonus Now! <<<<