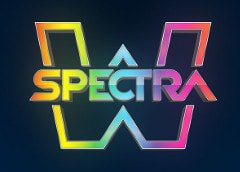 We've always found it interesting to know how the people of the past looked towards our day and age and how they imagined future would look like.
That theme is retro-futurism, and that sort of theme is something we get while playing Spectra.
The new Thunderkick product is a 30 payline, 5×4 reel set slot game, that gives you a myriad of colour combinations and symbols you will need to match up, with Wild symbols thrown in to give you re-spins and boosts to maximize your winnings, all wrapped up in a colourful, lit-up environment.
In this regard, Swedish developer Thunderkick stays true to it's formula – games that are gorgeous to look at, and that have a simple, yet engaging special feature that spices up your regular slot game into an exciting playthrough.
What We Love
Looking at this game, there's a lot of it to love. We've personally fallen in love with the graphics of the game.
A dark-blue background with a holographic window in the center, a large SPECTRA written at the top in shifting colour, while a myriad of light beams come from the back onto the symbols, giving you the appearance of them being projected right in front of your very eyes.
>>> Play Spectra Slot Now – CLICK HERE <<<
There's a variation to the symbols, each one coming in a different colour to help you vary them, and enough of a diversity that you will not feel bored with them.
The way the game board lights up all the winning symbols when you get a winning spin, and begins to light up each winning combination and listing how much each one earned you for that particular hand. The great soundtrack that trails in the background on the edge of notice while you take in the visual goodies.
The game also gives you certain quality of life with your spins – allowing you to set how much you want to spend and giving you the option to stop at any time. The main gameplay loop is fine, but apart from Wilds, it does not differ much from others like it.
What We Do Not Like
That said, there are some things that we personally found lacking with the game. Namely, while the Wild symbol is great on it's own in giving you re-spins, the game has no other specials – no jackpots or bonus games in sight.
We have to raise a question as to why the part of the interface which introduces you to the mechanics of symbols, their payouts, Wilds and their mechanics and the position of pay lines is shaped like a trophy, making it feel out of place.
The final nitpick we have is that the game will not allow you to select for yourself which win you want to highlight – it will do it for you, and you have to wait for it to shuffle through them all to see the one you want.
Worth Playing?
Is it worth playing, in the end? We would say yes, but only if you want to experience it. The game, in itself, is not bad, but it is not all that different from other slot machines on the market, or the rest of Thunderkick's own slots.
While the graphics are top-notch, the soundtrack is okay, but it will get repetitive as you play for a longer period of time. In the end, we'd say try it for yourself and see if it suits you.
>>> Play This Slot Now! CLICK HERE TO CLAIM $/£200 Bonus Now! <<<<