Streets are empty and the dark is scary, but there is a bright sound of soothing jazz music coming from an intimate jazz club in the backstreet of New Orleans.
Join the best jamming session in town and claim your right to win some great prizes while playing with up to 25 free spins, 5 special Wilds as you go on about doubling or tripling your wins in the exciting Genesis Gaming's video slot called Live Jazz.
There are five reels and five paylines in this seemingly uneventful game, but you will be wrong to skip it without giving it a try. Trust us.
What We Love
Let's start from the two most obvious characteristics of this musical theme. Genesis Gaming should be praised for their efforts in the visual sense of things, as they have indeed paid a great deal of attention in graphical details.
Despite being a dimly lit looking kind of a game, Live Jazz is a warm title with some great colouring around the reels suspended on two light posts.
Music is a completely different aspect that does not requires commenting further than saying that Genesis Gaming did great in enriching their latest title with a soothing soundtrack and a relaxing musical background.
As for the features themselves, we have been impressed with a variation to the Gamble feature we see more and more frequently in slot games around us. Instead of a classic button, you now have two separate ones – Double Up and Triple up (your winnings).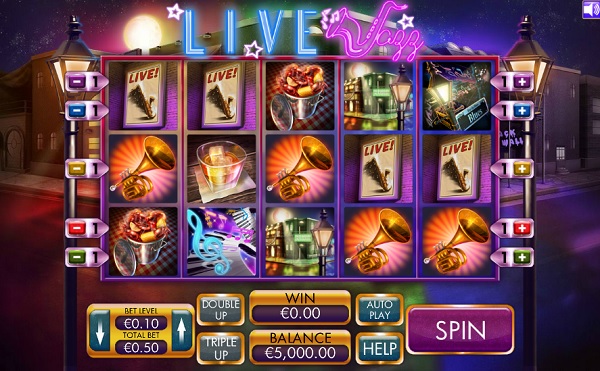 >>> Play Live Jazz Slot Now – CLICK HERE <<<
You get to pick a from four and three symbols, respectively, to claim a win in a pattern that can be repeated up to eight times in a row for a whopping $10,000 win.
Special features lack no excitement as well as you can hope to land up to 25 free spins with up to 5 extra Wilds once you collect three Scatters and engage Live Jazz Free Spins mode. Special feature takes you to different screens and add to the visual appeal of the game to a significant extent.
What is more, Free Spins can be re-triggered, which means that you can ideally benefit from as much as 50 free rounds, bound to have a substantial effect to your winning potential.
What We Do Not Like
Lack of additional paylines can be a limiting factor, as you will go on about hoping to benefit from five active paying lines.
Truth be told, they pay both ways and you can expect to get a winning combination both from left to right as well as from right to left. The latter variant is not as frequent as we would have liked it to be and that is something of limiting aspect.
What is more, the game would have been much better and livelier with a multiplier or two fitted in somewhere in between the lines.
Worth playing?
If you are not feeling too pleased with game's features and playing options, we are definitely positive that you will enjoy the brilliant soundtrack and engaging visuals which can be enough of an incentive to get you to stick around with Genesis Gaming's Live Jazz slot title.
Volatile gamble feature and potentially lucrative Free Spins feature definitely put this game on our list.
>>> Play This Slot Now! CLICK HERE TO CLAIM $/£200 Bonus Now! <<<<