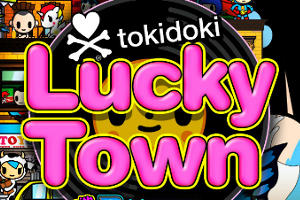 We know, plenty of eyebrows were raised once IGT announced that they will be releasing a game called Tokidoki Lucky Town. Those unfamiliar with the Tokidoki brand will have been wondering what the game was all about before they got the chance to spin it and we bet they felt even more confused by entering the colourful and utterly crazy universe of this Japanese lifestyle brand.
Five reels, three columns and 40 paying lines in the abundance of colour, animation, intriguing sound and blasting imagery will have been a huge surprise in the gaming world.
What We Love
You don't need to know anything about the Tokidoki brand in order to enjoy and/or fall in love with the IGT's new title. Tokidoki is a universe to itself with all of its individual characters with a story of their own.
Cute and cuddly, this game has it all. Bright colours, engaging video effects and hugely rewarding features in a – at first confusing – but rather straightforward bonus system.
The fast-paced game is packed with a 2x multiplier and stacked wilds in the base game. There is an arrow triggering the Reel Reveal feature which will give you up to 5 free spins and new features during each spin depending on the character you land in your fifth reel. IGT tried to achieve constant action, a lots of features with enough of wins to keep you excited and we tend to believe that they succeeded.
>>> Play Tokidoki Lucky Town Slot Now – CLICK HERE <<<
What We do Not Like
This might be a bit of a biased impression, but we have to say that flashy, loud games filled with all sorts of colours and designs are just a bit too much for our taste.
The entire over-the-top culture that has a great appeal to Japanese modern culture is not our cup of tea and Hello Kitty, much to the alikeness of this Tokidoki world is not something that can get us going. It might be hugely popular over there in Japan and across Asia, but it does not get us buzzing at all. On the contrary.
One hugely disappointing aspect of the much loved Japanese themes is the loud, intrusive and tiring audio. Luckily enough, this game can be muted, otherwise we would have gone mad.
Another important aspect that is pushing us further away from the Tokidoki video slot is its availability. The minimum bet is standing fixed at 60 coins and if you intend to play as a high roller you will be forced to dig deep into your pocked and splash out $600 for a single spin. No thank you.
Worth Playing
If you are a Japanese schoolgirl or a schoolboy familiar with the subject, you will definitely love this game. For all of us who are not that familiar with the entire Tokidoki concept, this game can be a bit over the top.
Regardless of the abundance of rewarding features, the game is a bit too expensive, which was to be expected from an officially license title. But still, it is not quite enough to make us jump on the bandwagon and get in the frenzy zone with Tokidoki's crazy universe.
>>> Play This Slot Now! CLICK HERE TO CLAIM $/£200 Bonus Now! <<<<