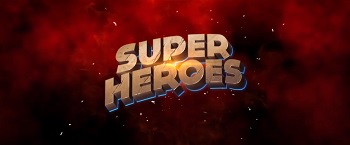 Yggdrasil Gaming is about to release a cracking-new video slot that will be packed with action and rewarding special features.
The Earth is in danger once again, the intergalactic supervillains are preparing to invade, but this time a brand new group of superheroes, called Knox, Raven, Tesla, Mirage, Hopper and Trance, are ready to fight them off by using their unique superpowers.
The word is that the battle will take place in outer space, so prepare to be amazed with top-notch special effect, crisp graphics and amazing 3D animation, accompanied by a kickass soundtrack.
It is expected that the slot will have five reels and 20 fixed paylines, while the maximum payout still remains a mystery. What is positive is that superhero maniacs will be chained to their seat thanks to some amazing special features.
What We Love
We don't actually remember when was the last time we felt this excited about the upcoming release of a new slot. The teaser was done almost perfectly, raising our expectations to the max, which is why we truly hope for a genuine cinematic experience in state-of-the-art 3D animation.
Given the fact that each of the superheroes will have a unique superpower, we expect loads of astonishing special effects, whether they are hitting the reels with a meteor shower, or transforming symbols with plasma rays, or turning up to four reels into Wilds, etc.
>>> Play Super Heroes Slot Now – CLICK HERE <<<
Superhero stories come with plenty of action, and Yggdrasil will definitely not disappoint in this department either. We love the fact that all superheroes will affect both the base game and the Bonus round, using their superpowers to help gamers land hefty payouts.
Six superheroes mean six different special features, so gamers will benefit from Random Wilds, Mystery Win, Multiplier, Extra Free Spins, Random Symbols and Wild Reels features. Also, there is the interesting Free Spins feature that will award you with 4-7 freebies, depending on the number of Scatters you manage to land on the reels.
What We do not Like
It is still too early in the morning to talk about the downsides of the 2016 release, especially because we have big expectations from the Super Heroes slot. The introduction of a brand new group of superheroes may be a slippery slope, given the fact that those coming from Marvell and DC Comics have a worldwide reputation.
Yggdrasil Gaming better gives them some outstanding new superpowers that would make them stand out from the crowd, otherwise, there is a realistic threat they will remain unknown. What is definite is that spinners should not expect superheroes will perform their superpowers in each and every spin, because where's the fun in that.
Worth Playing?
First of all, let's give a big round of applause to Yggdrasil Gaming for an amazing job they did with the teaser! Frankly, we got a bit bored with all the famous superheroes used in video slots, so a completely new group of protectors of the earth in the Super Heroes slot is really a breath of fresh air.
We are still to see what wonders they prepared for us, but we are positive they will not disappoint, both visually and regarding gameplay. Yggdrasil slots are famous for housing top-notch graphics and animations, while the soundtrack will certainly fit the story.
We have huge expectations from the special features as well, so we will definitely be among the first to test the slot once it goes public.
>>> Play This Slot Now! CLICK HERE TO CLAIM $/£200 Bonus Now! <<<<