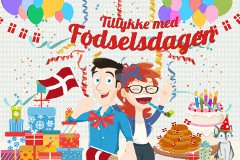 It can be pretty upsetting for a kid to learn that birthdays come only once a year.
Thanks to our friends from Play'n GO though, we now have a chance to celebrate every day like it's our birthday with the exhilarating Fodselsdagen slot.
Don't be put off by the title and stop scratching your heads, it means Happy Birthday in Danish.
Fodselsdagen is a brilliantly conceived game with great graphics, excellent audio effects, thrilling gameplay and lucrative bonuses which will make your playing time worthwhile.
Five reels and 20 paylines can offer endless fun for all of you party maniacs out there.
What We Love
The surprise factor is always a welcomed addition to any game and Fodselsdagen is one such title. Play'n GO are the Swedish gaming developers so it makes plenty of sense for them to choose a Scandinavian title to a simple and universally loved theme.
We can only guess that they wanted to keep us all in the dark a bit for an ultimate surprise once we actually lay our eyes upon the screen.
All of you who thought that Fodselsdagen might be about Nordic knights or mystical animals of some sort a children birthday party might come as a negative surprise, but the impression will change once you spin it once or twice. Trust us.
>>> Play Fodselsdagen Slot Now – CLICK HERE <<<
It is what lays inside that matters and Fodselsdagen bears plenty of hidden treasures. What can you get from a simple birthday party some of you will ask, but the answer is simple – plenty of birthday presents.
Birthday Cake as a Wild is a neat addition to the reels, not to mention the Scatter symbols which initiate the Free Spins bonus of up to 25 free games but also boost your base game wins 2x when you get two Scatters on your reels.
Still, the main attraction is the Bonus round which gets activated thanks to three symbols depicting Danish flags and colourful balloons. You will be taken to a gift room to choose three boxes and get great prizes going up to 300x your stake.
Finally, graphics and audio effects are adding depth to the game, making the impression and gaming experience complete.
What We Do Not Like
At $100 as maximum stake it needs to be pointed out that entrance fee for the Fodselsdagen party is a tad too expensive.
In all fairness, a wide range of possible bets is available with game being available at up to 5 coins per line, all in different values but we all love to take it to the max and raise the bar as much as we can. Sadly, some of us will not be able to do that as $100 can be pricey.
Next up are the payouts and actual wins. Fodselsdagen offers up to 300x your stake, but getting three of the highest paying symbols at the same time in the bonus round is hard to achieve.
Worth Playing?
Fodselsdagen is a great game filled with plenty of exciting features that will make your each day a birthday. Great rewards, engaging audio and graphics alike will take you back to your childhood when kids would bring you all sorts of presents.
There is one difference though as this time you will be given real money for your gifts, which makes this game even more appealing.
>>> Play This Slot Now! CLICK HERE TO CLAIM $/£200 Bonus Now! <<<<