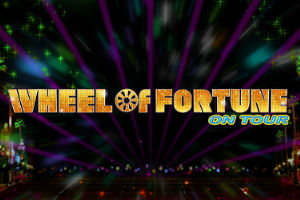 There isn't a person on the globe who doesn't like a good old Wheel of Fortune. A popular choice for slot games of all kinds, this theme has been heavily exploited thus far and even IGT did it already.
This England-based game development company have decided to take it one step further though with their latest Wheel of Fortune on Tour video game which is an action-packed adventure taking you on a trip across the United States and their well-known landmarks.
There are 5 reels, 30 pay lines and plenty of bonus features you can enjoy as you travel up and down the map, so knock yourselves out.
What We Love
Wheel of Fortune on Tour offers plenty of winning possibilities and that is always great in a game.
There are plenty of things going on here even in the base game which is far from being straightforward. You will be collecting fuel to fill your tank and move up the map to unlock various features and landmarks, filled with no less than 6 different winning options.
You will be looking to unlock the Free Play Free Spins, Expanded Top Award, Letter Board Picker, Multiplier Slice, Spin to Win and the Bonus Trigger Boost in the Level Up Plus feature together with the On Tour Bonus and Wheelmobile Wilds Feature that only add up to the excitement.
>>> Play Wheel of Fortune on Tour Slot Now – CLICK HERE <<<
It is quite simple actually, IGT have created a dazzling and bombastic video slot with bonus features coming thick and fast resulting in some very handsome payouts as well.
IGT have decided to send a message to certain slot developers which don't make provisions for engaging bonus features and the message is loud and clear.
What We Do not Like
To be honest, we haven't been that impressive with graphics to the Wheel of Fortune on Tour slot. IGT may have gone over the top with their popping visuals and colourings that resemble those of a fifth-grader.
Visuals are not as neat as we would have liked it and – what is more – the audio effects seem to be too intrusive and unpleasant even.
We appreciate IGT's effort to create an action-packed slot, but we must say that they have also gone over the top when bonus features are concerned. You will need some time to wrap your head around all the things that are going on in this title, with its Level Up Plus feature and numerous different bonus modes.
Ultimately, the Wheel of Fortune on Tour is an expensive ride as it will cost you $50 just to board the bus and even $500 to play at the maximum level. Being that expensive and unaffordable Wheel of Fortune is likely to have a limited audience.
Worth Playing?
Should you be able to afford it, do give it a try. That is our final verdict concluding that we are not as impressed as it first might have appeared.
Tip of the hat to IGT for putting a lot of effort in creating an eventful game but they seem to have forgotten that sometimes less is more. That can be applied to slot games as well.
>>> Play This Slot Now! CLICK HERE TO CLAIM $/£200 Bonus Now! <<<<