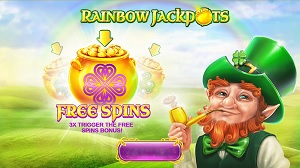 Red Tiger Gaming once again returns with a high-polish, amazing slot game that will leave you spinning in fields of gold and green chasing the leprechaun for his pot of gold.
Choosing to go with a European thematic, this time, around, the software provider opted to adopt the Irish mythology for a somewhat overdone setting with leprechauns and lucky charms, though their appeal can't be denied.
While five reels and twenty paylines sound standard, the sheer number of specials in this game will leave you excited for each appearance of your green-hatted friend.
What we Love
The look and feel of this game is outright gorgeous. Red Tiger Gaming continues to deliver high quality graphics across all platforms, while keeping true to it's theme.
The pillars spinning into a clover-shaped base, and with a gorgeous arch overseeing it all, with a light green field in the background hinting of lush, forested areas full of life will leave you stunned.
The game throws Wilds and bonuses out like crazy. Even without the appearance of the Leprechaun, each spin will have at least several golden Wilds set out somewhere, and every now and then a golden pot or two will appear on the reels, keeping you on edge that you might get a few free spins from them.
>>> Play Rainbow Jackpots Mobile Slot Now – CLICK HERE <<<
The sound and audio design continues to be top notch. The game thrums a nice, whimsical tune fitting for the somewhat mythological approach of the game, though it only plays while spinning. Each time a bonus icon appears, the slot thrums up, announcing it's entry loudly.
There's no denying the wide variety of the slot's offerings. You're given the ability to play with as little as $0.2 or as much as $500 per spin, giving both high and low rollers a shot at the game.
And thanks to bonus features such as Mega Free Spins which can give you up to 100 free spin with just one bet, Wilds that can multiply your score by 800x if you line up five in a payline, and picking your lucky beer to potentially net yourself up to 1000x your original stake, Rainbow Jackpots gives you options to win big and walk home with far more than you came in with.
What We Do Not like
The theme of Leprechauns, Ireland and pots of gold, while very well done, is nothing new and slots with such a theme are dime a dozen. With Red Tiger Gaming's creative approach to slots and the amazing gameplay they continue to deliver, we yearn for an original concept to see just what the amazing team of industry veterans can truly deliver.
Paylines are hardly visible at all.While they will show up to signal along which line you've won, Rainbow Jackpots does not allow you to mouse over a certain win to see how much a particular line won, or where that line runs in the first place. We feel it's a minor nitpick, but one that is more or less easy to correct.
Worth playing?
The things we found wrong with the game are minor at best, and will not stop you from enjoying a fantastic slot by Red Tiger Gaming. Their core team continues to prove they still have what it takes, and they know how to deliver amazing games with beautiful graphics, amazing specials, and features that will keep you spinning.
We can give a warm recommendation for this game, and hope you had as much fun playing as we did. Maybe you'll find your lucky charms with the help of your leprechaun buddy!
>>> Play This Slot Now! CLICK HERE TO CLAIM $/£200 Bonus Now! <<<<